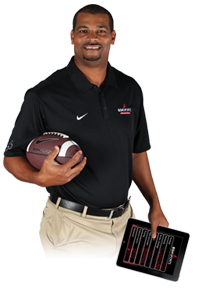 Interested in joining one of the most dynamic industries in the world - sports? We need field sales pros who are:
» Customer service driven
» Strong moral characters with high integrity
» Self-starters with competitive drive
» Creative problem solvers with consistent follow up
» Detail-oriented
» Resilient
» Tech-savvy
» Excellent written and verbal communicators
» Professionals with a coaching or sports related background; or have 3+ years' business to business (B2B) outside sales experience (preferably in sporting goods)
Got what it takes? Apply now!
What separates us from the rest of the industry?
» 40+ years of team sporting goods industry leadership and nationwide brand recognition.
» Dedicated Sales Support Team for every Sales Pro to help guide you along the way.
» Industry-leading technological tools, including use of the iPad which is provided to every Sales Pro equipped with our own proprietary iPad app.
» We provide ALL the major sporting goods brands demanded by the customers, including Nike, Under Armour, Champion, Wilson, Rawlings, and many more.
» Competitive commission structure plus spiffs, contests, and bonus opportunities.
» Complete training program
» Our very own 400+ page catalogs showcasing Uniforms, Apparel, and Equipment to grow your territory.
» No out-of-pocket marketing expenses. Our own Marketing Team is constantly developing new tools and flyers to help Sales Pros grow their business.
» Industry leading player-pay website, My Team Shop.
» Our very own Custom Team Art Locker.
» Over $60 million worth of inventory waiting to ship out of our 3 different Distribution Centers across the United States.
» We have over 800 Sales Pros across 50 states.